About MBferts and MBnutes @ https://www.mbferts.com/

Author's note – material added 28/6/16:  MBferts (Maniac Botanics USA Inc) is currently being investigated by the U.S. Environmental Protection Agency (EPA) and the Michigan Department of Agriculture and Rural Development (MDARD) for the illegal sales of synthetic plant growth regulators (subclass growth retardants) and synthetic plant hormones (e.g. NAA).
A recent FOI application to MDARD yielding this information:
[Quote]



 "MDARD staff reviewed the firm's website and verified that several products/compounds listed for sale were described as plant growth hormones and plant growth regulators. None of the products observed for sale on the website were registered with the U.S. Environmental Protection Agency (EPA). MDARD staff conducted a Federal marketplace inspection at the facility and the report for the inspection was forwarded to the EPA."
"Presently the matter remains open and is under review by the department and the U.S. Environmental Protection Agency."


[End Quote]



FOI material received 27/6/16. View MDARD FOI documents here….. 


At this point (2/7/16), what is known is that the MBferts 'Hormone and Vitamin Booster' was removed from the market by MDARD for containing synthetic plant hormones and Stretch Stopper which is Chlormequat Chloride, a synthetic plant growth regulator with extremely long withholding periods, was pulled. The investigation has now escalated and details have been passed to the EPA.


This said,  MBferts continues to sell their  'Hormone-Vitamin Booster'  via https://www.mbferts.com while not informing consumers that the formula (product) has been completely changed. I.e. they are now formulating their Hormone-Vitamin Booster using natural (non synthetic) hormones. This likely means the effects it has on plants are far less pronounced (in all probability also very different) than the original formulation. Nothing about this has been noted on the MBferts site surrounding the marketing of MBferts Hormone-Vitamin Booster' (here). See screenshot of ingredient list of MBferts Hormone-Vitamin Booster taken 3/7/16 below (the product no longer contains these stated ingredients).



Author's note: Within 24 hours of posting this image, MBferts quickly removed this information (ingredients list) from their site. However, while having the time to do this they didn't bother to make note of the fact that their Hormone-Vitamin Booster was now a completely different formula from the original. I.e. following is an excerpt from an email from MBferts ((bad grammar/typos and maniacal caps included) to me posing as a customer inquiring as to why I could not find Stretch Stopper on the MBferts site. Email received July 2 2016. 


[Quote] 


"Now the hormone in our hormone and vitamin booster is now behind derived from ORGANIC sources of Hormones, and not synthetic, so we can still sell you this product which is our NUMBER 1 most popular item sold! Works wonders! $60 a gallon or (2) for $100! A gallon Free ships in a liter bottle 4x strong."  


[End Quote]



As more information comes to light (e.g. I will be applying for more FOI material through MDARD and the EPA) I will add further material to the MBferts story.
Original Material Posted on Manic Botanix March 2016


Firstly,  this is an article I (Glow) would have  preferred not to have written; however, we (Manic Botanix/MB/Manix) are about to enter the U.S. market and some clarification around the confusion on the part of many U.S. growers regarding MBferts and/or MBnutes, trading under the company name of Maniac Botanics USA Inc and our business/site/registered trademark, Manic Botanix® needs to be made.
Manic Botanix® is not connected in any way to MBferts, MBnutes or "Maniac Botanics USA Inc"



Let me begin by categorically stating that Manic Botanix® is not connected in any way to MBferts/MBnutes/Maniac Botanics USA Inc which trades from Hazel Park, Mi. 48030.


How MBferts and MBnutes came into existence is a sad old tale dating back to 2011 -12 when the now entity behind MBferts (Steven Anthony Hessler – not Tom Fromp as he presents himself to many MBferts customers and indeed lists himself as re an entity associated to Maniac Botanics USA Inc) approached us wanting to be our U.S. distributor/partner.


For legal reasons (i.e. Manic Botanix  will be taking legal action against MBferts/Maniac Botanics USA Inc/Steven Anthony Hessler in the near future) I can't go into too much detail (nor would you likely be interested) other than to say that after some dealings and discussions with Steven Anthony Hessler we (Manic Botanix and its partners) decided that his skill set, ethics and agendas weren't inline to those of Manic Botanix. As a result, we ceased further discussions.


He subsequently chose to trade-off our name, U.S, trademark and reputation… a telling sign of things to come.


Additionally, at no point during the trading history of MBferts has Manic Botanix had any connection to Maniac Botanics USA Inc. That is, we have received word that MBferts has been claiming that I (G.Low) am his ex-partner.  For example, in an email to a customer he states:


[Quote]



"HI, you can thank our ex-partner for contacting the USA EPA on us for selling these products!"


[End Quote]



This is one of many mistruths that Steven Anthony Hessler, the owner and operator of Maniac Botanics USA Inc, has spun surrounding Manic Botanix.  Safe to say, we can categorically state that Manic Botanix ceased dealings with Maniac Botanics USA Inc long before he chose to trade off our name and reputation.
Our Better Judgment was Correct  
In the years that have followed, it has become clear that our decision to not have Steven Anthony Hessler act as our U.S. distributor was the right call.


We, Manic Botanix®, have received numerous complaints to our email address at Manic Botanix® (info@manicbotanix.com) from MBferts customers who have confused Manic Botanix® with MBferts. These complaints surround what can only be described as dubious trade practices. Further, Hessler supplies synthetic, potentially harmful to human health Plant Growth Regulators (PGRs) via MBferts.com. He notes that his synthetic chemcial PGR product  – which active is Chlormequat Chloride (2-Chloroethyl)trimethylammonium chloride) – doesn't contain Alar or Paclobutazol and implies it is safe if used as a foliar drench. See following image: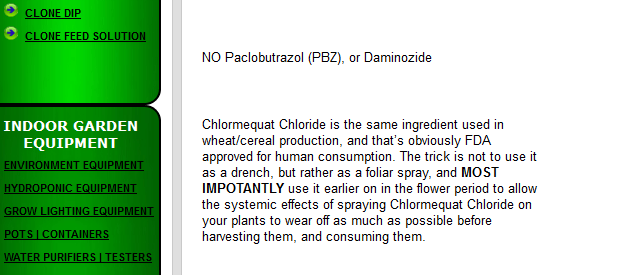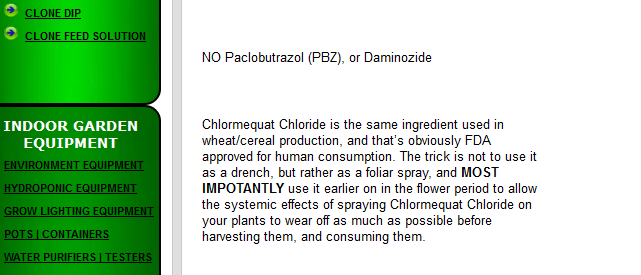 What MBferts states on their website is:
[Quote]
"Chlormequat Chloride is the same ingredient used in wheat/cereal production, and that's obviously FDA approved for human consumption. The trick is not to use it as a drench, but rather as a foliar spray, and MOST IMPOTANTLY use it earlier on in the flower period to allow the systemic effects of spraying Chlormequat Chloride on your plants to wear off as much as possible before harvesting them, and consuming them."
[End Quote]
What they fail to mention is that the product (Chlormequat Chloride/CCC) is a known human immune system toxin that is registered with the EPA for use on ornamental crops only.
As a 2007 EPA document on Chlormequat Chloride notes:
[Quote]
"Chlormequat chloride is a plant growth regulator (PGR) registered for use on ornamental plants grown in greenhouses, nurseries and shadehouses. As chlormequat chloride has no food/feed uses and no U.S. tolerances associated with its use, it is not subject to the Food Quality Protection Act of 1996."
[End Quote]
Further, Chlormequat Chloride is on the Washington State banned for use on medical marijuana list of pesticides.
What this means is that medical marijuana products must be tested for, among other pesticides, Chlormequat Chloride to be deemed compliant to "medical" production standards in Washington State.

I.e.


[Quote]



"…pesticide screening must be completed for each batch of finished concentrates and extracts. A certified third-party testing lab must screen for the following unapproved pesticides:
Abamectin
Bifenthrin

Chlormequat chloride

Daminozide
Paclobutrazol
Permethrin
Propiconazole
Uniconazole"
[End Quote]
Source: http://www.doh.wa.gov/YouandYourFamily/Marijuana/MedicalMarijuana/RulesinProgress/MarijuanaProductCompliance/PesticideTesting
Additionally, Chlormequat Chloride has extremely long withholding periods. For example, studies show that 84 days (12 weeks) after application significant amounts of Chlormequat Chloride remains present/residual in the plant tissue  – – 50mg/kg on day 0 and15mg/kg on day 84. . See http://www.efsa.europa.eu/sites/default/files/scientific_output/files/main_documents/179r.pdf
By the way, while somewhat speculative as to the original concentration of the 'MBferts Stretch Stopper' concentrate supplied through http://www.mbferts.com/ (albeit, given similar hydro industry products, I expect it is about 77,000 ppm or 7.7% Chlormequat Chloride), based on the recommended usage rate of 3 ml/l (the same dilution rate as 7.7% CCC products supplied through hydroponic stores), the plants are being foliar fed with over 200ppm (over 200mg/kg) of Chlormequat Chloride.

That is:


Concentrate equals 77g per litre Chlormequat Chloride = 77,000 ppm
Recommended dilution rate equals 3mL in 1,000mL = a dilution of 1/333.33


 = 231ppm Chlormequat Chloride in solution/foliar feed, or
, over four times the application rate cited in the study above. This means that 12 weeks after application high levels of Chlormequat Chloride would remain residual in the harvested product – a conservative estimate being somewhere between 35 – 50mg/kg (35 – 50ppm)
at least
.
In countries where there are maximum residue levels (mrl) for Chlormequat Chloride these range from e.g. the EU's mrl for Chlormequat Chloride is 0.05 mg/kg (or 0.05 ppm) or 0.1 mg/kg (0.1ppm) in pears until 31 July 2017 and 2mg/kg (2ppm) for barley and wheat. There is, however, no mrl for combustible crops where typically, upon combustion, high levels of pesticides are found in the smoke stream and, thus, when inhaled these toxins are delivered directly to the lungs and from there they efficiently enter the blood stream and internal organs. Basically, studies show that contaminants are delivered at higher levels through smoking than through other means of ingestion. For example, the blood cadmium levels found in U.S. tobacco smokers is 3-times higher on average than in non-smokers. This really makes the mrl for edible food crops redundant (too high) because pesticides are likely to be far more harmful when ingested through inhalation.


One other important point to note re residual Chlormequat Chloride in combustible crops is that in all cases, material safety data sheets for the chemical 2-Chloroethyl trimethylammonium chloride (Chlormequat Chloride) make very specific hazard statements of, "harmful if swallowed, toxic in contact with skin" and "combustion products produced in a fire may be toxic and/or irritating." This, of course, beyond its potential to compromise the human immune system, makes Chlormequat Chloride the perfect choice for combustible crops (not!).
Anyone for some 'Franken-Pot' (hack! hack! cough! cough!) ?? View MSDS/SDS for Chlormequat Chloride.


Technically, the mrl for Chlormequat Chloride in the US is zero (because it isn't registered/approved for use on any food crops in the U.S.) and recently there has been some controversy over Canadian grain imports being contaminated with Chlormequat Chloride.  As a result, Canadian grain buyers who export to the U.S. will be required to sign a declaration indicating use of Chlormequat Chloride in order to ensure that only untreated produce is shipped to the United States. See http://www.mbwheatandbarley.ca/wp-content/uploads/2015/06/media-release-June-4-2015.pdf
This said, Maniac Botanics USA Inc (MBferts)  claims:
"Chlormequat Chloride is the same ingredient used in wheat/cereal production, and that's obviously FDA approved for human consumption."
*False – it is registered in the U.S. for use on non-food, ornamental crops only and even with the most basic checks this information is readily available. Further, the mrl for grain in countries/regions where Chlormequat Chloride use is approved is 2ppm (2 mg/kg). This is miles away from the approximately 35-50ppm (35 – 50 mg/kg) MBferts Stretch Stopper use would result in re medical marijuana.  Thus, even if the U.S. were to approve the use of Chlormequat Chloride on grain crops, drawing parallels between grain and medical marijuana is as depraved as marketing gets (i.e. 2ppm via edible vs. 35 -50ppm via inhalation as combustible)..


And:
"MOST IMPOTANTLY use it earlier on in the flower period to allow the systemic effects of spraying Chlormequat Chloride on your plants to wear off as much as possible before harvesting them, and consuming them."
*Of course, THAT WOULD BE "MOST IMPORTANTLY" (IMPOTENT IS WHAT YOU"LL BE AFTER SMOKING MBferts STRETCH STOPPER) and if produce grown with Stretch Stopper was medical and it was lab tested for Chlormequat Chloride it would undoubtedly fail the Washington State pesticide screen given that over 200ppm has been applied to the plant and that high levels of Chlormequat Chloride  remain residual for 12 weeks and well beyond. At best, given even the most generous EU mrl, the Chlormequat Chloride residues found in U.S. produced "medicine" grown by "caregivers" with MBferts Stretch Stopper would be at least 17.5 times higher than is permissible in cereal  and a whopping 350 times higher than  mrl for pears. When you combine this information with the fact that toxins are delivered far more efficiently via inhalation than through other means of ingestion (e.g. edibles), MBferts Stretch Stopper is a very toxic/harmful product indeed.


False advertising aside, in short, MBferts (Maniac Botanics USA Inc) is promoting a banned for use on medical marijuana (or any other U.S. grown consumable crop), known human immune toxin to U.S. medical marijuana growers (see following and note image 'Medical Botanics') for use on a product that may find its way to vulnerable U.S. med patients who have compromised immune systems already (e.g. HIV, AIDS, cancer, leukemia)


Author's note: Shortly after publishing this article (within days) MBFerts gave their shop a new look with marijuana leaves emblazoned on the header above their Stretch Stopper. What's notable here is that while having the time to change the site image/look/design, MBFerts did not change the copy/marketing surrounding 'Stretch Stopper' – replete with what they clearly know to be false advertising – of a non-compliant U.S. agricultural product. Cannabis leaves and Medical Botanics combined, it also doesn't leave much to the imagination (Operation Green Merchant anyone? here and here) and one wonders as to the sanity of overtly falsely marketing toxic PGRs to Med growers in a State that is currently legislating to ban Med home grows to ensure quality medicine is provided through strict production legislation where only licensed dispensaries would legally be able to produce and provide "medicine". View details here. Of course, one could argue that because Mi is a Med State, MBferts can perhaps safely overtly target cannabis cultivators. This though would miss the point that MBferts ships both to Med and non-Med locales and therefore is indiscriminately targeting cannabis cultivators regardless of legal status. One could also safely say that MBferts isn't asking to see medical marijuana "caregiver" cards (although, given the widespread use of chemical PGRs by many growtard, greed driven Med cowboys, the term "caregiver" is definitely the wrong word) prior to supplying  goods to the consumer demographic they are targeting.  What this basically means is that MBferts is a bust in the waiting (in breach of Fed laws and therefore falling under a DEA brief) and only a fool would shop with a company who endangers their clients through overt cannabis specific marketing.


These sales tactics, in my mind, are about as morally depraved as things get – even by hydroponic retail industry (PGR peddling) standards. In fact, contrary to the ludicrous marketing claims that MBferts "Stretch Stopper" (Chlormequat Chloride/CCC) is a safer alternative to Paclobutrazol and/or Daminozide/Alar, given its application rate and use for the production of "Med"  for immune suppressed patients, it is arguably/potentially the worst of a very bad bunch. Either way, there is no place whatsoever for systemic chemical plant growth regulators (subclass growth retardants) in the production of medicinal crops, and those who falsely market these products rank well below company's such as Monsanto who at least label their poisons with 1) the percentage w/v or w/w of active and 2) the appropriate current knowledge health and safety warnings (as is required by law).


The bottom line…. these are products. practices and ethics Manic Botanix® wants no association to through brand confusion between Maniac Botanics USA Inc and Manic Botanix® Inc. In simple terms, MBferts (Steven Anthony Hessler/Maniac Botanics USA Inc) represents everything that we, Manic Botanix®, have long stood against. e.g. notably, I (Glow) was the person that first categorically demonstrated with no room for denial (here and here) that several hydroponic bloom boosters, widely sold through hydroponic retail stores, contained potentially harmful to human health, synthetic PGRs (subclass growth retardants)


As one U.S. based Med grower duly noted recently:

Consumer Confusion and Public Allegations of Fraud and Tax Evasion
Here's just one example of the negative feedback that MBferts has received. This featured on IC Mag in 2014. It paints a very clear picture of dubious trade practices. Worse yet, from a legal perspective for Manic Botanix, the post clearly outlines – albeit through hearsay – that Steven Anthony Hessler (not Tom as this poster knows him) had engaged in conspiracy to commit fraud and what appears to be tax evasion. Other than this, if you go to the beginning of this thread you will note that a very clear confusion exists about my links to MBferts; i,e, note post 1 where it is stated,  "Hey fellow grower. Grant Low has worked his ass off testing coco substrates and different nutrient products exposing their "secrete (sic) ingredients." Here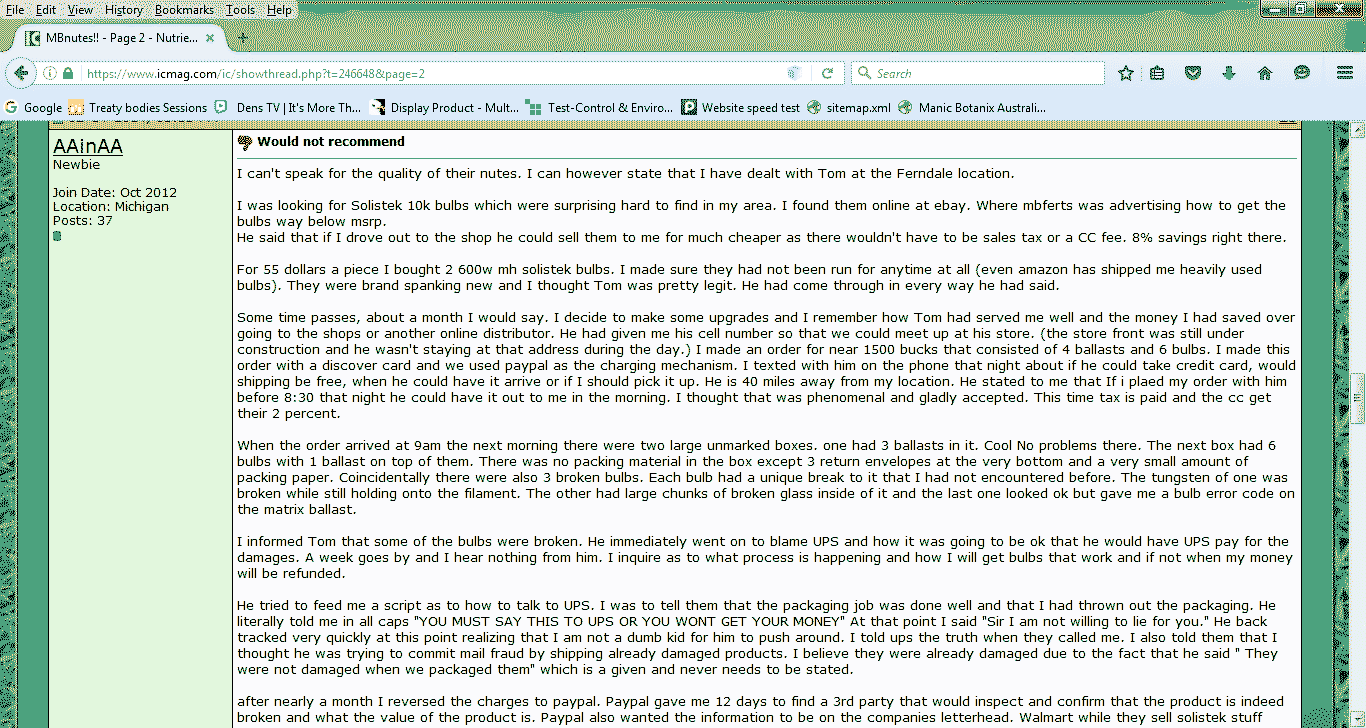 Posted 02-14-2014 at https://www.icmag.com/ic/showthread.php?t=246648&page=2 Screen shot taken 26/3/2016


For obvious reasons these are actions that Manic Botanix® definitely doesn't want to be linked to via public postings by angry MBferts customers. We were actually contacted by this customer who had confused us to MBferts (listed company name of Maniac Botanics USA Inc). Fortunately, after a brief explanation, the MBferts customer corrected links he had made to Manic Botanix® in a complaint to Paypal.
To perhaps add to the confusion, and to make matters worse, not only are consumers confused about Manic Botanix® being associated to MBferts, which in actuality is registered as the company Maniac Botanics USA Inc (i.e. if you are dealing with MBferts via http://www.mbferts.com/ you are, as far as we can tell through conducting company searches, dealing with a non-registered trading entity) , but so too is Google. For example, when "Maniac Botanics" is Googled in the U.S. the Manic Botanix (our name and site) homepage features as #1 on Google. The same thing occurs no matter which country you Google "Maniac Botanics" from. I.e. we have googled Maniac Botanics from the UK, EU, U.S., Australia and Asia and in all instances Manic Botanix (our domain and name) features as #1 on Google as of 31/2/2016.
See following screenshot.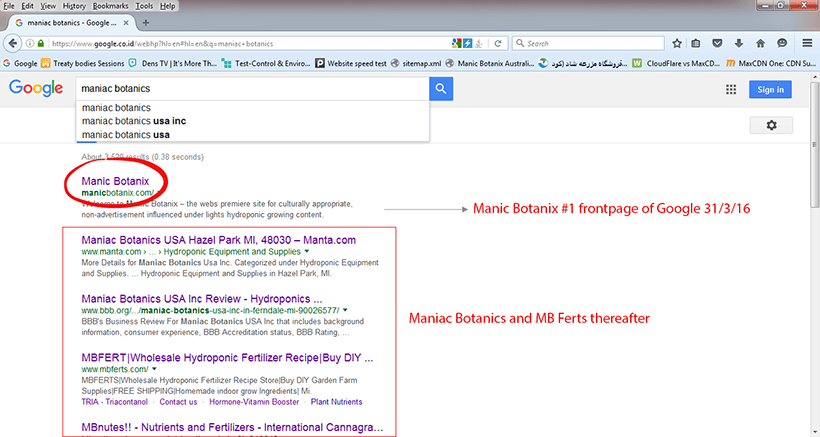 I'll leave it there – as I said, this is something I would have preferred not to address and the less said for legal reasons the better. The bottom line is "Manic Botanix®" has nothing to do with MB Ferts (MBferts), MBnutes and/or the quite appropriately named "Maniac Botanics USA Inc" which has a C- business rating with the Better Business Bureau. Nor at any point during the time that Steven Anthony Hessler has traded as MBferts, MBnutes and/or "Maniac Botanics USA Inc" has Manic Botanix® been, in any way whatsoever, part of his trading activities.


Footnote/Update added June 29 2016: Shortly after writing about MBferts/Maniac Botanics USA Inc having a C- rating with the Better Business Bureau (bbb.org) the rating was changed to an A+. This perplexed me until I did some research into the integrity of Better Business Bureau only to discover that their ratings are, at best, highly suspect and bbb.org has been the subject of much controversy over pay-for ratings where they provide "the best ratings that money can buy". For example, they recently gave an A – credit rating to a terror group for $425.00.  Thus, what appears to have happened is that Maniac Botanics USA Inc has paid the Better Business Bureau enough money to have their C- rating upgraded to A+ (wow!!!)…  See https://www.consumeraffairs.com/online/bbb.html   and   http://abcnews.go.com/Blotter/business-bureau-best-ratings-money-buy/story?id=12123843 and  http://www.ripoffreport.com/r/Better-Business-Bureau-BBB/internet/Better-Business-Bureau-BBB-BBB-phony-corrupt-useless-not-even-taking-complaints-usi-1293335


Having myself filed a complaint against Maniac Botanics USA Inc with the Better Business Bureau surrounding the false advertising and sales of dangerous chemicals to medical marijuana growers; having supplied them with documentation that Maniac Botanics USA Inc is subject to both a State and Federal investigations as a result of their business practices, the Better Business Bureau still rates Maniac Botanics USA Inc with an A+. Basically, relying on Better Business Bureau ratings to establish the integrity of a business is a pointless exercise. 


The going gets maniacal when JesusSaves engages in ungodly libel



Things, unfortunately,  got predictably maniacal on the 31/3/2016 and at this point I need to make a response to claims that presumably Steven Anthony Hessler made via a webpage/domain shortly after I published this article and it ranked very well on Google (front page – number six in the US – when "MBferts" is/was Googled and above Hessler's own page rankings when MB nutrients is/was googled).


Here is an example of what is being posted and let me myself point you towards  this horrendously laid out webpage (it could do with a plug because Google has blocked it) – the link to which was posted on ICMag (since removed and featured only momentarily 31/3/2016) Quick edit for now: Here's the link but don't bother using it (she's down) and read on below…. http://www.grant-mahy-undercover-government-agent-manicbotanix-is-a-trap.com/


The  page/domain disappeared somewhere between the  2/4/ – 3/4/2016, albeit I believe the entity behind it will be posting more defamatory/libelous pages while, like a thief in the night, hiding behind non-disclosed/anonymous domain registrations and pseudonyms,

Fortunately there are records…. screen shots, formal complaints to Google and several very credible witnesses to confirm the presence of the site so in the meantime let me place up a screenshot.

You'll have to excuse the schizoid graphics. The screenshot is actually  fine (full screen); it's more a case of whoever put this page in cyberspace has no idea re website development. It looks as if it has been "put together by a five year old child". You'll find the latter statement ("put together by a five year old child") in some legals I post further into this ungodly tale of fear and loathing. 

See following image where it is announced that I am "A (that would be 'an' because a.e.i.o.u are vowels) Undercover Government Agent (in red no less) and Manicbotanix.COM (that would be http://manicbotanix.com or manicbotanix.com, in lower case) is a trap. "YOU HAVE BEEN WARNED" (OUCH !! NO NEED TO SHOUT !!!! Also, I would recommend at least one exclamation (!) mark at the end of 'SHOUT' statements in future)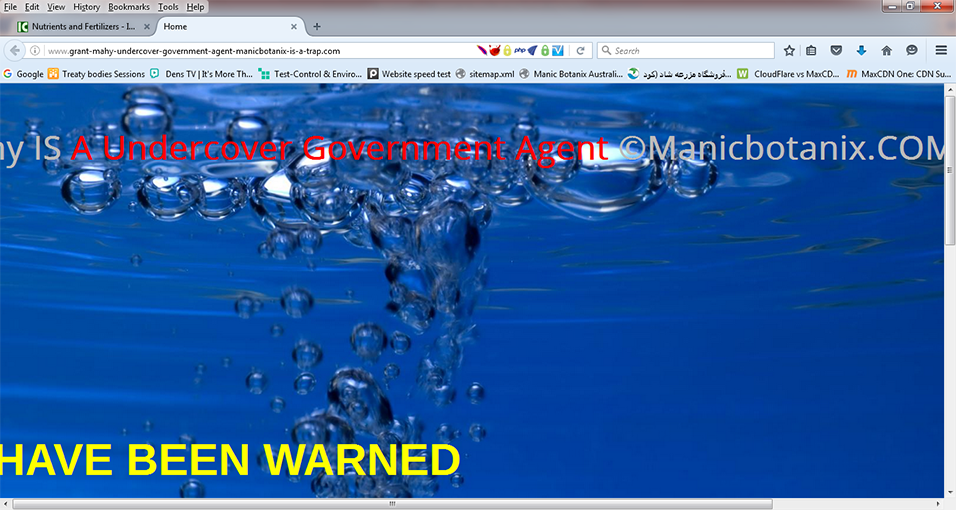 Next up, below is a screenshot of one of several posts by JesusSaves which appeared on ICMag 31/3/2016
JesusSaves tells readers:


His family is "ruined" because of me (Please expand ?? You ripped off my name/rep, grossly distorted my ideas/philosophy and subsequently made a great deal of money spinning a pack of lies to hydroponic consumers. How exactly did this ruin your family? And, of course, looking at this photo taken on a family vacation in April 2016, which I no doubt helped to pay for, it doesn't exactly look like you and your family are starving. Thus,  "ruined" is a pretty strong word for it…. i.e. it's nothing that a year or so in Jenny Craig and some time at the gym couldn't fix man….!!)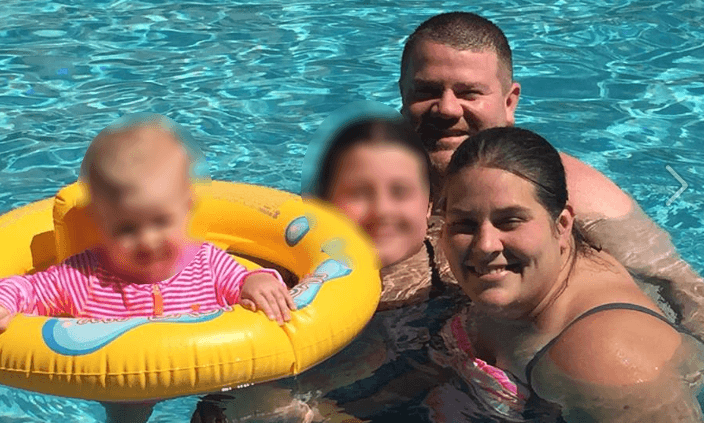 Photo extracted from MBFerts Facebook page 1/5/2016 (children's faces intentionally blurred)


And then "JesusSaves' goes onto say…… 


"Jesus Loves You" (yeah… it's all a bit weird!!)
"The truth shall set you free" (Well no – this is a flawed cliche borrowed from a book that is full of flawed cliches –

John 8:32

. If you, for example, were to confess the truth, the truth would not set you free. In fact, the truth would cost you a great deal of money and potentially see you incarcerated)
Then links to the page (http://www.grant-mahy-undercover-government-agent-manicbotanix-is-a-trap.com/) where it is boldly and bravely announced by an individual hiding behind pseudonyms that I am an "undercover government agent" and Manic Botanix is a trap.


see following.




While it appears that ICMag were quick to remove the infringing/libelous material, fortunately I was able to grab  a screenshot of the post made by "JesusSaves" … aka, Mr Steven "Jesus Loves You" (in caps no less) Anthony Hessler of "Maniac" Botanics USA Inc, Mi…(my dear Watson) I presume…


We're investigating this now and to date have found several URLs
https://www.icmag.com/ic/showthread.php?p=7410964#post7410964
http://www.grant-mahy-undercover-government-agent-manicbotanix-is-a-trap.com
https://who.godaddy.com/whois.aspx?domain=grant-mahy-undercover-government-agent-manicbotanix-is-a-trap.com&prog_id=GoDaddy


Of course, one major problem with the claim that I am an undercover government agent is that having run a full background check on Steven Anthony Hessler (criminal records, property, marriages, taxes etc etc etc) it becomes clear that Hessler, aka 'JesusSaves', has no criminal record in Michigan or any other US State (albeit that he has left a trail of rip-offs and bad debt in his wake). See following (as of April 2016):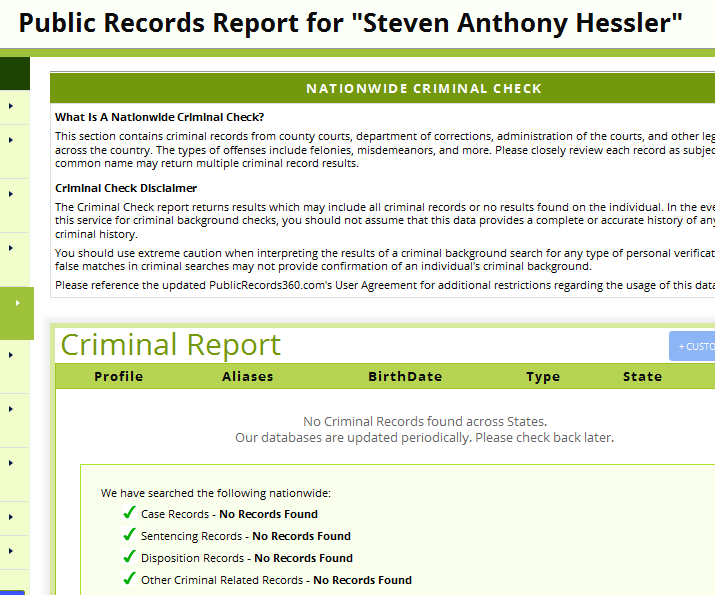 So why the slander, lies and deceit?


To explain this slander/libel/defamation I'll post the cease and desist legal document Manic Botanix sent Steven Anthony Hessler in 2012. This document demonstrates clearly that Mr Hessler threatened to make links to me (G.Low/Glow, which is my author name/pseudonym while Grant Mahy is my legal name) being a police narc (actually an undercover government agent – how exciting – no less) due to the fact (yes fact) that I briefly worked in the alcohol and drug sector in Australia in the mid/late 1990s. For the record, this is the organization I helped to establish along with several other people (two social work students and a human services student) while I was studying at University in Western Australia during the mid nineties. It is a peer based drug users group ( an incorporated community sector, not government organization) that among other things lobbies for drug users rights, including the full legalization of ALL illicit drugs including both recreational and medical marijuana.


Now I would invite you to read over the legal document sent to Mr Hessler in 2012  You'll note that in an email (found on page two) he threatens to go public with what he knew then to be false information with to quote… "This I promise you will end bad for you. After all you're the one who worked with the Australian police/governments…" View legal document Here… .(PDF).



I'm going to let things stand there. The historical documentation, and the current situation, paints a very clear picture of who is behind JesusSaves and his ungodly (sacrilegious) creation of a webpage. Enough said and again this is a matter for the courts to settle. Plainly, though, his (Hessler's) blackmail attempts and threats of libel, given what you are reading now, failed miserably. What I would also add, on a more personal note, and as a message to Mr Hessler, is I don't take kindly to being called names like "wanker" and being labelled a dog/narc (an undercover government agent no less). When we do catch up (and we will) I'd invite you to repeat these slurs to my face like a man. At that point my fat friend (maggot) you will be needing a lot more than a lawyer to defend you.. … ….


'Blackmail' is an act, often a crime, involving unjustified threats to make a gain (commonly money or property) or cause loss to another unless a demand is met. Essentially, it is coercion involving threats to reveal substantially true or false information about a person to the public
Libel is a method of defamation expressed by print, writing, pictures, signs, effigies, or any communication embodied in physical form that is injurious to a person's reputation, exposes a person to public hatred, contempt or ridicule, or injures a person in his/her business or profession. A libelous statement is presumed to be false, unless the defendant can prove its truth..

Source: http://www.grant-mahy-undercover-government-agent-manicbotanix-is-a-trap.com/


We'd Like to Hear from MBferts Customers





We would like to hear from any MBferts customers who are under the impression, or who were ever under the impression, that MBferts and Manic Botanix are related. We are collating information now for legal action and any information we receive pertaining to brand-name confusion would be helpful.


Further, for those of you out there who have encountered problems dealing with MBferts, understand that this has nothing to do with Manic Botanix and that the person behind MBferts is Steven Anthony Hessler and not an individual named Tom Fromp. Much like you, I expect, we were thoroughly fleeced and ripped off by an unethical individual..Thus, if you wish to lodge complaints to any consumer protection bodies (or Paypal etc) about MBferts or MBnutes (or indeed the "Maniac" @ Maniac Botanics USA Inc) at least know who you are lodging the complaint against.
I.e. as far as we can tell through company searches, MBferts is not a registered trading entity. Therefore, complaints should be made about "Maniac Botanics USA Inc" which is a registered US/Mi trading entity and the umbrella company of the, what appears to be, non-registered MBferts. Thus, complaints to consumer protection bodies should be lodged against 'Maniac Botanics USA Inc' which is a registered company in MI connected to Steven Anthony Hessler and not Tom Fromp.
See attached ID of the MBferts (Maniac Botanics USA Inc) owner, Steven Anthony Hessler..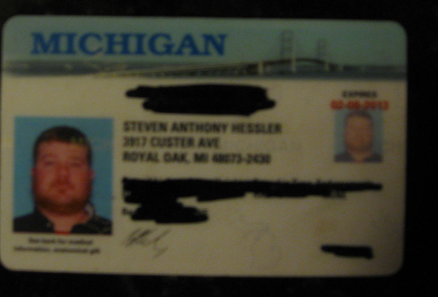 My apologies for having to raise this issue and I hope you understand why it needed to be raised..


Thanks for your time


Glow/Grant Mahy
Manic Botanix®