MBferts (Maniac Botanics USA Inc) being Investigated by the U.S. EPA and Michigan Department of Agriculture




The following documents relate to a story surrounding MBferts (Maniac Botanics USA Inc) falsely marketing and selling synthetic Plant Growth Regulators (PGRs) via https://www.mbferts.com. Original article here ….


At this point (2/7/16), what is known is that the MBferts 'Hormone and Vitamin Booster' was removed from the market by MDARD for containing synthetic plant hormones and Stretch Stopper, which is Chlormequat Chloride, a synthetic plant growth regulator with extremely long withholding periods, was pulled from shelves. The investigation has now escalated and details have been passed to the EPA. 


This said,  MBferts continues to sell their  'Hormone-Vitamin Booster'  via https://www.mbferts.com while not informing consumers that the formula (product) has been completely changed. I.e. they are now formulating their Hormone-Vitamin Booster using natural (non synthetic) hormones. This likely means the effects it has on plants are far less pronounced (in all probability also very different) than the original formulation. Nothing about this has been noted on the MBferts site surrounding the marketing of MBferts Hormone-Vitamin Booster' (here). See screenshot of ingredient list of MBferts Hormone-Vitamin Booster taken 3/7/16 below (the product no longer contains these stated ingredients).



Author's note: Within 24 hours of posting this image, MBferts quickly removed this information (ingredients list) from their site. However, while having the time to do this they didn't bother to make note of the fact that their Hormone-Vitamin Booster was now a completely different formula from the original. I.e. following is an excerpt from an email from MBferts ((bad grammar/typos and maniacal caps included) to me posing as a customer inquiring as to why I could not find Stretch Stopper on the MBferts site. Email received July 2 2016. 


[Quote] 


"Now the hormone in our hormone and vitamin booster is now behind derived from ORGANIC sources of Hormones, and not synthetic, so we can still sell you this product which is our NUMBER 1 most popular item sold! Works wonders! $60 a gallon or (2) for $100! A gallon Free ships in a liter bottle 4x strong."  


[End Quote]



Document 1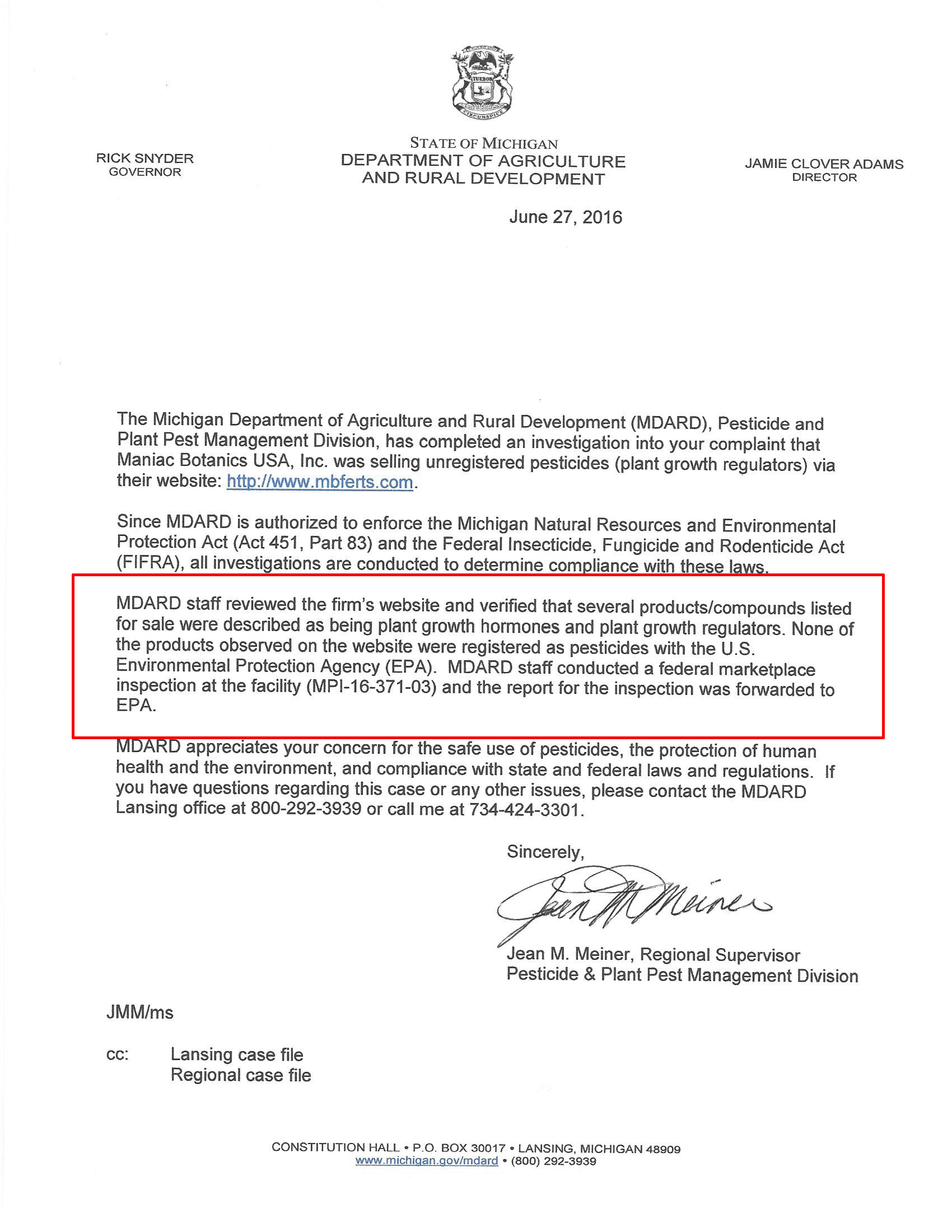 Document 2


As more information comes to light (e.g. I will be applying for more FOI material through MDARD and the EPA) I will add further material to the MBferts story.